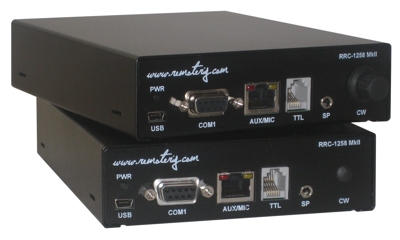 The Remoterig RRC-1258MkII is the main product which can be used in most sytem configurations. Learn more on the How it works page and the system configuration page.
RRC-1258MkIIs (dualRX) is sold in pairs assembled tested but not configured. Included in the package is one USB cable, Power cables (2 pc), Cat 5 cable for making IC-706 cable and a 2xRJ-45 extender.
Separate Control- or Radio boxes are also available in the Webshop.
Cables for the major Radio models can be bought from the Webshop
For prices check our Webshop or your nearest distributor.
Technical Data:
Product/Art no:

Remoterig RRC-1258MkII

Dimensions (L x H  x D):

165 x 140 x 34 mm

Weigth:

2 x 250 g (excl. power supply.)

Ip class:

IP20

Power supply requirement:

10-18V DC via DC Plug 2.1 mm/5.5mm

Current drain at 13,8V:

App. 160 mA up to app. 600 mA depending on audio level and ev. backlighter

Network connection:

RJ45 T-Base10/100

Speaker amplifier:

2W (8 ohm)

Mic input:

Dynamisk eller Electret med DC feeding

Radio protocol (detachable front)

Kenwood TS-480, TS-2000
ICOM IC-703, IC-706, IC-E2820, IC-R2500.

Radio protocol (traditional contr.)

ICOM CI-V, Kenwood PC-control, Yaesu CAT, Elecraft

Protocol Internet

TCP/IP,UDP, DHCP, SIP, RTP, DNS, DynDNS etc.

Codecs.

G711 A-law (8kHz/8bit), 8kHz/16bit, 16kHz/16bit mm.

Bandwidth demands:

From app. 90 kBit/s up to ap.p 1 MBit/s depending on Codecs and settings.

USB:

USB 2.0 (mini USB)

Serial ports ( transparent):

2 x RS-232 (57600 baud) 1 x TTL (57600 baud)

CW-keyer:

10-40 WPM, Iambiq A/B, Squece, sidetone

Usable temp range:

0 to +40 C

Humidity range:

30% to 90% RH