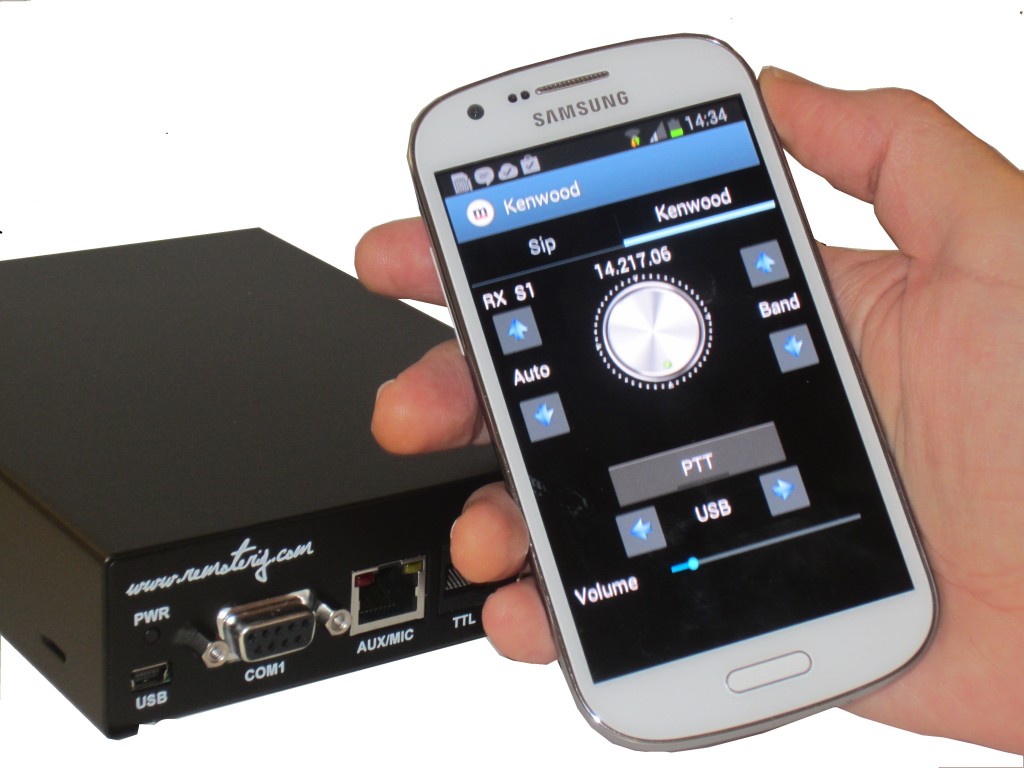 RRC-Nano is an App for Android which makes it possible to remote control Ham radio stations from a Smartphone or other Android devices.
This is the first public version which we now release to check if there is an interest for this product. The functionality is limited to the basic functions.
Kenwood
If you have a Remoterig Radio-RRC connected to your Kenwood via a CAT cable from COM2 you do not need to do any changes in the Radio-RRC.
IF you have a TS-480 which you only connected trough the TTL-port you have to connect a RS-232 cable from COM2-to the Radio CAT-port, and add settings for com 2.
The Kenwood App is only tested with TS-480 but it only uses the generic CAT commands so it will probably work with most Kenwood radios.
Elecraft K3 and KX3
If you have a Elecraft K3, KX3 or a K3 twin setup, connected via a CAT cable from COM2 you do not need to do any changes in the Radio-RRC.
ICOM
If you have a ICOM connected via a CI-V interface from COM2 you do not need to do any changes in the Radio-RRC. If you have a IC-7100 which you only remote via the control panel you have to connect a CI-V interface like ICOM CT-17 from Radio-RRC COM2 to the Radio-CI-V port. You also have to set up COM2 to mode 2 (ICOM CI-V) and set the same baudrate as you have set the radio to (for example 19200 baud).
The ICOM App is designed with focus on IC-7100 but it uses generic commands so it may work with most modern ICOMs like 7000,7200,7600,7800, 756ProIII etc. Remember that IC-7100 is the only one which can be switched ON/OFF remotely.
Don't forget to set the CI-V address to the same as set in the radio..
Yaesu
The Yaesu App is only tested with FT-950 but it only uses the generic CAT commands so it will probably work with most modern Yaesu radios like FT-2000, FT-5000, FT-9000 and later models. It will not work with the FT-1000x and FT-8×7 models which uses the old version of Yaesu protocol, We plan to add support for them also later
Report back pse.
If you find out that the Apps are working with other models than those we have listed here, pse let us know so we can list all models here.
Download and install
The apps are downloaded and installed from Google Play, You can download the trialversion and test for a month then you have to buy the PRO version to continue to use the App.
If you already have bought the App Lic from the Remoterig webshop send an email to info@remoterig.com to get a protioncode so you can download the PRO app without paying again.
The setup is very easy, search for Remoterig on Google Play and install the brand specific app.
K= Kenwood, E= Elecraft K3, I= ICOM, Y= Yaesu.
Start the brand specific App K,E,I or Y. Enter your call sign and the rest of the info which is the same as in your Control RRC.

SIP password
SIP contact (IP number or ddns hostname) without :<port number>
SIP port (normally 13000)
UDP audio (normally 13001)
UDP command (normally 13002)
RX Jitter buffer size (test with 7)
RX Jitter buffer delay (test with 5)
Radio address = ICOM CI-V address (88 for IC-7100)
PTT Hold = Behavior of PTT button. Marked means that you must hold the button down while talking. Unmarked makes the PTT button toggle between send and receive.

When it's done click on Connect (your settings are saved). When the app is in connection with the radio it switches to next page which is the Radio Control page. Of course it works best over WiFi but 4G/LTE and 3G is also OK

You can switch between pages by touching the left and right white arrows in the upper red banner. To disconnect you touch the upper white arrow in order to go back to the start page. Then click the Disconnect button.

Enjoy!

Only Basic functions like Band, Mode, Frequency, IF-bandwidth, VFO-Steps, Volume, VFO selection and PTT is supported at the moment. But's it's enough to keep control over the DX:es from the sofa. If you want to tune slower, start tuning inside the VFO-knob then move the finger out to make a greater circle.

Whats next ?

my ideas of further development is.

– Make CW transmission possible.

– More controls like RF-gain, PWR, Mic-gain, Comp, Antenna A/B etc.

– …….

You can enter a frequency direct if you click on the frequency display over the VFO*
License to use the RRC-Nano App together with Remoterig RRC-1258.

If you are satisfied with the function and want to continue, you can buy the PRO version from Google Play for unlimited use.